Reflect in one minute
One Minute uses image recognition to identify artworks and offer visitors short, bite-size reflections about them.
The Visitor Experience
What is the experience like?
Visitors use the app to scan an artwork. The app displays a brief story about the artwork. The story is divided in chunks to create breaks that direct visitors attention to the artwork.
How to implement it?
The heart of the system is the story editor. The editor helps you write stories that direct visitors to reflect on details within the artwork. The tool is easy to implement and will be released as open source soon.
Why this app?
Tests show that the app is a companion rather than a distraction: The app provides a format for simple, yet personal reflections that encourages visitors to direct their attention to specific details in the artwork.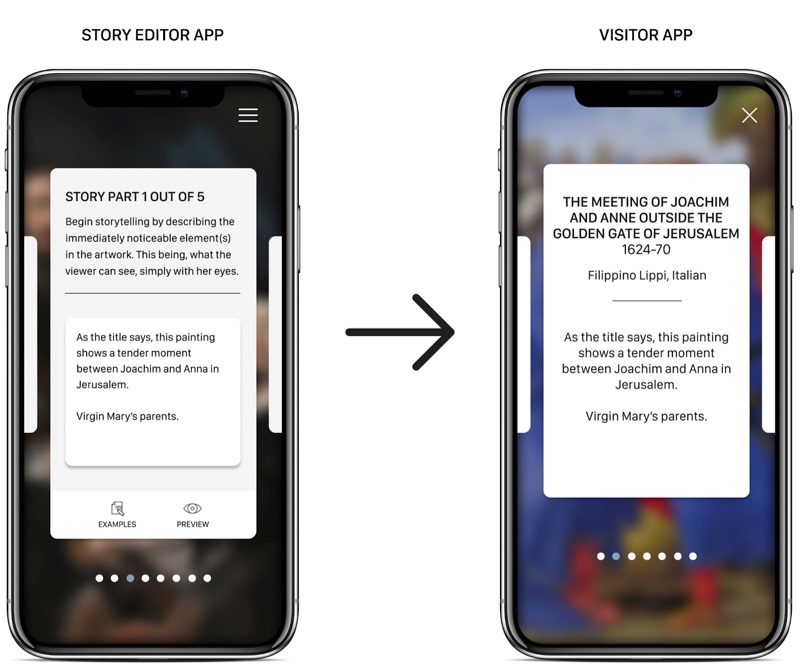 I usually skip reading the labels because it takes away my focus from the artwork. With this, I actually use the story while I'm focusing on the artwork. It's really cool.
Visitor, The National Gallery of Denmark
I liked how the story wasn't served in "one big plate". For every bit I felt like "ahh that's exciting", and then I read the next one, "ahh that's exciting". It's like a mystery being solved.
Visitor, The National Gallery of Denmark